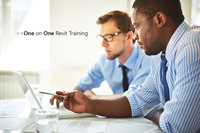 Autodesk Revit Architecture Software helps to explore the early design concepts and forms and more accurately maintains vision through design, documentation and construction. If a change is made it is automatically updated across the project. The essential BIM data that Autodesk Revit architecture software provides can be used to support sustainable design, clash detection construction planning and fabrication. BIM is the process of generating and managing data during its life cycle typically its uses three dimensional real time Dynamic building modelling software to increase productivity in building design and construction
We have individual (private class one on one), group classes, morning, afternoon and evening sessions. Every day classes available. You may inquire through any of our training coordinator, plan ahead and start your career with us.
UNIT – I (Introduction)

Introduction Revit Architectures
Revit File type
Building Element
Basic Civil structures

UNIT – 2 (Basic Tools)

Levels and Walls
Drawing Aids
Construction Modeling tool
Working with grids
Levels and Walls
Drawing Aids
UNIT – 3 (Architectural Element)

Modify commands
Doors
Windows
Visual Style
Foundation

UNIT -4 (Architectural Element)

Dimension
Floor
Ceiling
Roof
Openings

UNIT -5 (Basic Tools)

Components
Managing Views
Components
Site design

UNIT – 6 (Architectural Element)

Stairs
Ramp
Railing
Curtain wall
Massing

UNIT – 7 (Basic Tools)

Text
Model text
Tag
Detailing
Text
Text Modelling
Scaling's

UNIT – 8 (Basic Tools)

Plotting
Schedule
Rooms
Area
3D View
3D Render
Walk through
Certification Issued By:
Royal Institute for Chartered Engineers RICE
USA
Royal Institute for Chartered Engineers or widely known as RICE is one of the world's largest engineering institutions in the world. Located in Texas, USA it was established by professional engineers came from different types of engineering who believed that being an engineer doesn't stop after you graduated and labeled as one of the top people.
Membership Issued By:

High Authority Council for Arab Engineers (HACAE)
Egypt
Council member of Arab Arbitration Society. The association provided membership for qualified students who passed the examination for engineering certifications.
We provide two easy steps on how you can join the course.
Fill-up the registration form and visit the Institute, with the following requirements then pay the necessary fees.

passport copy or national id copy
1 copy of passport size photo
education certificate copy
CV or background profile